news from the runway
RELEASE - Port Authority Receives MAEDC Award

(Wilmington, Ohio) The Clinton County Port Authority's Economic Development Week 2021 Campaign was selected as the winner for the Marketing Program (Small Division) category for the Mid-America Economic Development Council's (MAEDC) 2021 Annual Economic Development Awards.

RELEASE - Port Authority Board Renews Agreements, Prepares for Year-End

(Wilmington, Ohio) At its November meeting, the Clinton County Port Authority Board approved renewing annual agreements with DigiCom and CBD Advisors, as well as renewed its agreement with Michael Baker International for three years.

RELEASE - City - Port Authority Announce Infrastructure Project

(Wilmington, Ohio) Details were recently finalized between the City of Wilmington, the Clinton County Port Authority and the Ohio Department of Development (ODOD) (formerly the Ohio Development Services Agency) for the use of a $1.1 million grant in support of repairs to Airborne Road.

RELEASE - Wilmington Air Park Named Best Airport in Ohio for Second Year 2021

(Wilmington, Ohio) The Wilmington Air Park has been recognized as the Best Airport in Ohio for the second year in a row by Ohio Business Magazine in its "Best in Ohio Business" Awards.

RELEASE - Port Authority Receives IEDC Award

(Wilmington, Ohio) The Clinton County Port Authority won a Silver Award for its "#EDW2021 in Clinton County" project from the from the International Economic Development Council (IEDC). The recognition was awarded in the category of "Innovation in Economic Development Week."

LGSTX Services Named Airport Business of the Year

WILMINGTON, Ohio – August 26, 2021 – LGSTX Services, a wholly owned subsidiary of Air Transport Services Group, Inc. (NASDAQ:ATSG), was named 2021 Airport Business of the Year yesterday at the Ohio Aviation Association (OAA) Annual Conference. The award recognizes a business with a mission, services, and goals that result in a positive impact on a community, workforce, and local airport.

RELEASE - Wilmington Air Park One of Top Three Airports in Ohio for Third Year

(Wilmington, Ohio) Voting is now open for Ohio Business Magazine's "Best in Ohio Business" Awards. For the second year in a row, the Wilmington Air Park was selected as one of the top three airports in Ohio, and now the voting is up to the public.

RELEASE - Port Authority Recognized as 2021 Ohio Best Workplace

(Wilmington, Ohio) For the second year in a row, the Clinton County Port Authority has been selected by Ohio Business Magazine as a "Best Workplace in Ohio."

RELEASE - Port Authority Celebrates Award-Winning SBDC Member

(Wilmington, Ohio) The Clinton County Port Authority is pleased to congratulate David Riggs, Director of the SBDC at Miami Regionals, for being named Ohio's SBDC State Star in 2021.

RELEASE - Port Authority Board Authorizes Lease, Building Improvements

(Wilmington, Ohio) At its July meeting, the Clinton County Port Authority Board approved the lease of Building 2051 to GA Telesis Engine Services, LLC, as well as approved funds to complete building remediation and improvements.

RELEASE - Port Authority Board Authorizes Fees, Discusses Economic Development

(Wilmington, Ohio) At its June meeting, Clinton County Port Authority Board addressed three business items and spent much of the discussion time on economic development efforts throughout Clinton County.

RELEASE - Port Authority Celebrates 10+1 Anniversary

(Wilmington, Ohio) The Clinton County Port Authority Board and staff gathered with past Board and staff members, and others recently to mark the "10 + 1" Anniversary of the donation of the Wilmington Air Park to the Clinton County Port Authority.

RELEASE - Port Authority Celebrates Economic Development Week

(Wilmington, Ohio) The Clinton County Port Authority is marking National Economic Development Week from May 9-15, 2021, to celebrate the contributions of positive economic development and discuss the role of the profession in the local community.

RELEASE - Port Authority Approves Grant Insurance Renewal

(Wilmington, Ohio) At its April meeting, the Clinton County Port Authority Board discussed the continuing need to address infrastructure at the Wilmington Air Park. To that end, it reviewed and approved an application to the Ohio Department of Transportation, Office of Aviation for projects estimated to total nearly $900,000.

US cargo-focussed airports report rapid growth in 2020

US airports with a cargo focus last year saw their freight volumes grow rapidly as consumers switched to e-commerce, according to new research by Chaddick Institute for Metropolitan Development.

RELEASE - Port Authority Celebrates #SBDC Day

WILMINGTON, OHIO - For over 40 years the America's Small Business Development Center (SBDC) Network has helped millions of men, women, veteran, and minority entrepreneurs and other small business owners start and grow their businesses. Totaling nearly 1,000 locations across the country, SBDCs are in every community providing local businesses and entrepreneurs with the resources needed to succeed. The Clinton County Port Authority is pleased to welcome James Buckner, a new Business Advisor with the Miami University SBDC (MUSBDC), to the Port Authority team.

RELEASE - Port Authority Launches New Economic Development Website

WILMINGTON, OH -- The Clinton County Port Authority (CCPA) recently launched a new website, created by Golden Shovel Agency, to further strengthen its online presence and the economic growth of the community. The new site includes county-wide data, information specifically collected for site selectors, and local business resources to serve as a one-stop-shop for companies considering new investment or expansion in Clinton County.

RELEASE - Wilmington Air Park Highest Volume Cargo Airport in Ohio

(Wilmington, Ohio) The Wilmington Air Park was ranked the highest volume airport in Ohio for cargo shipped for 12 consecutive months ended July 2020. That volume also makes it the 33rd busiest airport in the United States based on pounds of freight transiting the airport.

RELEASE-Wilmington Air Park Named Best Airport in Ohio

(Wilmington, Ohio) The Wilmington Air Park was recently named the Best Airport in Ohio by Ohio Business Magazine, in its "Best in Ohio Business" Awards. In its announcement, the magazine noted: "In this, our inaugural Best in Ohio Business Awards, we wanted to honor the many businesses and services that make Ohio such a great place to do business."

RELEASE - County Emergency Loan Fund Initiated

(Wilmington, Ohio) The Clinton County Port Authority has launched an Emergency Loan Fund (ELF), to provide short- to mid-term loans to local businesses impacted by the pandemic. "Locally, our small businesses have worked diligently to react to the new business climate," said Dan Evers, Clinton County Port Authority Executive Director. "This opportunity is designed to target small businesses in need of immediate funds to sustain and/or fund costs associated with re-opening or remaining open."

RELEASE - Port Authority Recognized as 2020 Best Workplace in Ohio

(Wilmington, Ohio) Annually, Ohio Business Magazine sends out the call to organizations throughout the state of Ohio, looking for the Best Workplaces. In its fifth year of recognizing for-profit, nonprofit and government institutions, the publication selected the Clinton County Port Authority to be among the 22 entities, with fewer than 50 employees as a "Best Workplace in Ohio."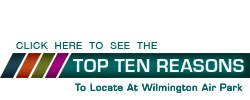 Welcome to Wilmington Air Park – Premier Aviation Business Park
Specializing In: Aviation Manufacturing, R&D, Maintenance Repair Overhaul, – Unmanned Aerial Systems, Testing, Air Cargo and Logistics
The Wilmington Air Park is an integrated Aviation and Logistics Business Park located on 1,900 acres in central Ohio. The Air Park features nearly 3 million square feet of industrial, office and hangar space. It is strategically located between Cincinnati, Columbus and Dayton, Ohio. With easy access to I-71, it also is within 50-70 miles of three international passenger-service airports. As a fully functional airport with two runways, (9,000 x 150 ft. and 10,701 x 150 ft.) and CAT III instrument approach, the Wilmington Air Park can land as large as 747-class aircrafts. A PPR FORM is required for landing at the Wilmington Air Park.
The Wilmington Air Park provides flexibility in landing schedules, plentiful aprons, on-site aircraft maintenance, Foreign Trade Zone Designation and an array of state and local incentive programs. Aerospace and cargo companies find Wilmington Air Park an ideal location to locate their business.
The Wilmington Air Park is the highest volume cargo airport in Ohio, and is 31st in the U. S. Ohio ranks in the top 4 states in the country for logistics. This premier aviation business park is ideally situated in the heart of an excellent infrastructure network. In addition, Ohio has the 7th largest road system in the U.S. Ohio is within 600 miles of 61% of all U.S. and Canadian manufacturing locations and is home to a diverse transportation system linking all North American and global markets.
A steady and skilled population, in the heart of Ohio's aerospace and logistics region, provides an ample workforce with a strong work ethic and a bias to logistics and transportation, warehouse and distribution, and aerospace skill sets. An abundance of universities, college and trade schools support skilled training and can offer tailored programs for employee training.
New Maintenance Repair
& Overhaul Hangar
Sign Up
To receive information and updates on Wilmington Air Park Click Here

<![endif]-->