interactive
map
news from the runway
Clinton County Receives Brownfields Grant

Wilmington, Ohio – May 20, 2016 – The Clinton County Port Authority and the Clinton County Regional Planning Commission received word this week that the Port Authority has received a $200,000 Brownfields Assessment Grant from the US Environmental Protection Agency (US EPA).

FAA Authorization Propels UC's UAV Work Skyward

The high-flying endeavors in unmanned aerial vehicle testing and research at the University of Cincinnati just got a new lift from the Federal Aviation Administration. This week the FAA granted UC's Department of Aerospace Engineering and Engineering Mechanics and Department of Mechanical and Materials Engineering certificates of authorization (COA) to test five types of UAVs, or drones, in Wilmington Air Park, less than an hour's drive from campus. Permission to also fly with the West Virginia Division of Forestry is still pending.

Site Selection Names Wilmington Ohio in Top Ten U.S. Micropolitans

Site Selection Magazine recently announced the awards given to this years top Metropolitans and Micropolitans in the U.S. In the magazines ranking of Top Micropolitans cities of 10,000 to 50,000 people Wilmington, Ohio was named number on the Micropolitan list.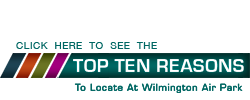 Welcome to Wilmington Air Park – Premier Aviation Business Park
Specializing In: Aviation Manufacturing, R&D, Maintenance Repair Overhaul, – Unmanned Aerial Systems, Testing, Air Cargo and Logistics
The Wilmington Air Park is an integrated Aviation and Logistics Business Park located on 1,900 acres in central Ohio. The Air Park features nearly 3 million square feet of industrial, office and hangar space. The Air Park is strategically located between Cincinnati, Columbus and Dayton, Ohio. It has easy access to I-71 and is within 50-70 miles of three international passenger-service airports. As a fully functional airport with two runways, (9,000 x 150 ft. and 10,701 x 150 ft.) and CAT III instrument approach, the Wilmington Air Park can land as large as 747-class aircrafts.
The Wilmington Air Park provides flexibility in landing schedules, plentiful aprons, on-site aircraft maintenance, Foreign Trade Zone Designation and an array of state and local incentive programs. Aerospace and cargo companies find Wilmington Air Park an ideal location to locate their business.
Ohio ranks in the top 4 states in the country for logistics. This premier aviation business park is ideally situated in the heart of an excellent infrastructure network. In addition, Ohio has the 7th largest road system in the U.S. Ohio is within 600 miles of 61% of all U.S. and Canadian manufacturing locations and is home to a diverse transportation system linking all North American and global markets.
A steady and skilled population, in the heart of Ohio's aerospace and logistics region, provides an ample workforce with a strong work ethic and a bias to logistics and transportation, warehouse and distribution, and aerospace skill sets. An abundance of universities, college and trade schools support skilled training and can offer tailored programs for employee training.
New Maintenance Repair
& Overhaul Hangar
Sign Up
To receive information and updates on Wilmington Air Park Click Here

<![endif]-->