interactive
map
news from the runway
FAA Authorizes Flight Test Research for Workhorse Group HorseFly(TM) UAS

CINCINNATI, Oct. 14, 2015 (GLOBE NEWSWIRE) -- The Federal Aviation Administration (FAA) granted a Certificate of Authorization (COA) to the Ohio/Indiana UAS Center and Test Complex, allowing Workhorse Group Inc. (OTCQB:WKHS) and the University of Cincinnati (UC) to continue their joint development of Workhorse Group's HorseFly™ UAS, which is designed to fly to and from a standard delivery vehicle. Testing of HorseFly will take place at the Wilmington Air Park in Wilmington, OH.

FAA Authorization Propels UC's UAV Work Skyward

The high-flying endeavors in unmanned aerial vehicle testing and research at the University of Cincinnati just got a new lift from the Federal Aviation Administration. This week the FAA granted UC's Department of Aerospace Engineering and Engineering Mechanics and Department of Mechanical and Materials Engineering certificates of authorization (COA) to test five types of UAVs, or drones, in Wilmington Air Park, less than an hour's drive from campus. Permission to also fly with the West Virginia Division of Forestry is still pending.

DAN EVERS SELECTED BY CLINTON COUNTY PORT AUTHORITY

The Board of Directors of the Clinton County Port Authority recently announced that Dan Evers has been selected to be the new Executive Director. A seasoned public official with significant economic development background, Evers brings a wealth of experience to the Port Authority to continue its work in Clinton County.

CLINTON COUNTY PORT AUTHORITY EXTENDS DEADLINE FOR PURCHASING COORDINATOR APPLICANTS

The Clinton County Port Authority has been seeking applicants for a Purchasing Coordinator position. Originally, the advertisement that ran in the Wilmington New Journal on July 24 and July 30 noted an August 7 deadline for resumes. The deadline has been extended to August 14, 2015.

ADVERTISEMENT FOR BIDS - CLINTON COUNTY PORT AUTHORITY WILMINGTON AIR PARK

Sealed bids will be received until 1:00 pm local time on Thursday March 19, 2015, and then publicly opened and read at the Administration Building located at 1113 Airport Road, Wilmington, OH 45177, for furnishing all labor, materials and equipment and performing all work necessary to: Repair and replace various sections of taxiway pavement and remove vegetation obstructions in the ditch line north of Runway 22.

Manufacturer to bring jobs to Wilmington

A Louisville-based conveyor and conveying equipment manufacturer will bring 15 to 30 new jobs to the Wilmington Air Park, local economic development officials announced Friday.

Wilmington Air Park company expanding

Jet Maintenance Consulting Corp. is expanding its training center at Wilmington Air Park to accommodate greater demand for aviation maintenance training. It's adding another 750 square feet of training space including a classroom where staff instruct on commercial aircraft systems for Boeing, Bombardier, Embraer, BAE and Airbus aircraft.

Wilmington Air Park opens new $14.6M hangar

Ohio Gov. John Kasich attended the opening for the 105,000-square-foot hangar, which will allow AMES to significantly increase the capacity for its aircraft maintenance operations at the air park. The hangar will create 250 jobs, bringing AMES to 640 employees at the park. The company already has 200,000 square feet of space at the facility.

Wilmington Air Park celebrates hangar expansion

The Wilmington Air Park celebrated the opening of a new 105,000-square-foot aircraft maintenance hangar is leased by Airborne Maintenance and Engineering Services (AMES), which provides maintenance, repair and overhaul services at the site. AMES in early 2013 pledged to hire an additional 259 workers in the next 15 or so months.

JUMP hangar ready for business

Ohio Gov. John R. Kasich visited Wilmington Thursday for the grand opening of the newly constructed JUMP (Joint Use Maintenance and Paint) hangar at the Wilmington Air Park.

Company to expand in Wilmington, 15 new jobs

A company is moving to Wilmington Air Park and planning to grow. Santa Rosa Systems Inc. has signed a lease for 58,000 square feet of space at the Air Park, the Clinton County Port Authority announced Friday. That company designs and manufactures material handling equipment, such as loading and unloading equipment for the courier industry.

New deals Push Local Drone Efforts Forward

The Ohio/Indiana Unmanned Aerial Systems Center and Test Complex reached agreements with Wilmington Air Park and the Springfield-Beckley Municipal Airport in an attempt to bring jobs and research and development opportunities to area businesses and colleges.

Reviving Cargo In Wilmington, Ohio

The town of Wilmington, Ohio, with just 12,000 people, took a hit when DHL closed its U.S. hub there in 2009. At its peak, the company employed 9,000 people.

Governor Kasich Joins Wilmington Air Park At Grand Opening of Aircraft Hangar

Wilmington Air Park and Airborne Maintenance and Engineering Services (AMES) today hosted Ohio Governor John Kasich for the Grand Opening of a new maintenance, repair and overhaul (MRO) aircraft hangar in Wilmington, OH.

Air Park Brings Jobs Back To Wilmington Area

The hangar at the Wilmington Air Park, which is leased by Airborne Maintenance and Engineering Services, is bringing jobs and hope back to the Wilmington area.

Big Hangar Headlines Wilmington Redevelopment

The Wilmington Air Park is rebuilding itself.

Wilmington Air Park Opens New $14.6M Hangar

Wilmington Air Parks newest aircraft maintenance hangar is open for business

Wilmington Air Parks Continued Expansion Adds to Story of Recovery

At first glance, it appeared that the small town of Wilmington had received an economic blow from which it would not recover when air freight giant DHL announced it was leaving in 2008. Instead, the community underwent a renaissance that started when DHL agreed to donate its property to the community. That set in motion the beginning of a story of how the Clinton County Port Authority and several organizations like the chamber, the city, the county and existing businesses joined together to create the Wilmington Air Park.

Site Selection Names Wilmington Ohio in Top Ten U.S. Micropolitans

Site Selection Magazine recently announced the awards given to this years top Metropolitans and Micropolitans in the U.S. In the magazines ranking of Top Micropolitans cities of 10,000 to 50,000 people Wilmington, Ohio was named number on the Micropolitan list.

Wilmington Air Park Wins Marketing Award

The Wilmington Air Park has received an award from the Mid-America Economic Development Council, officials announced Thursday.

Wilmington Air Park Receives Development Award

The Wilmington Air Park has received an award from the International Economic Development Council.

Wilmington Air Park Fights Back After DHL Departure

For many communities, a mass layoff is a worst-case scenario, especially if it impacts the largest employer in town. When Wilmington Air Park lost its major tenant in 2009, it was devastating for the community.

Sinclair College Receives Authorization to Fly UAV's at Wilmington Air Park

DAYTON, Ohio (WDTN) - Sinclair College has received a Certificate of Authorization (CoA) from the Federal Aviation Administration which will allow Unmanned Aerial Vehicles (UAVs) be flown at Wilmington Airpark, the college announced Aug. 1.

Clinton County Revolving Loan Fund Now Available

A new tool for businesses in Clinton County, as well as those considering locating in Clinton County is now available to support qualifying projects.

Air Transport Services Group Expand Wilmington Operation

Wilmington Air Park officials have confirmed that Air Transport International, Inc. (ATI) , a subsidiary of Air Transport Services Group, Inc. (ATSG), expects to move as many as 80 airline maintenance and flight operations positions from other states to the Wilmington Air Park.

Wilmington, A City That Became Focus During Recession Rebounds

WILMINGTON, Ohio - A southwest Ohio community that became a national focal point for demonstrating the pain of recession job loss is making a slow comeback.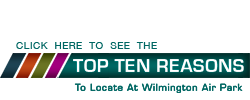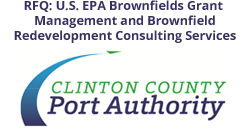 Welcome to Wilmington Air Park – Premier Aviation Business Park
Specializing In: Aviation Manufacturing, R&D, Maintenance Repair Overhaul, – Unmanned Aerial Systems, Testing, Air Cargo and Logistics
The Wilmington Air Park is an integrated Aviation and Logistics Business Park located on 1,900 acres in central Ohio. The Air Park features nearly 3 million square feet of industrial, office and hangar space. The Air Park is strategically located between Cincinnati, Columbus and Dayton, Ohio. It has easy access to I-71 and is within 50-70 miles of three international passenger-service airports. As a fully functional airport with two runways, (9,000 x 150 ft. and 10,701 x 150 ft.) and CAT III instrument approach, the Wilmington Air Park can land as large as 747-class aircrafts.
The Wilmington Air Park provides flexibility in landing schedules, plentiful aprons, on-site aircraft maintenance, Foreign Trade Zone Designation and an array of state and local incentive programs. Aerospace and cargo companies find Wilmington Air Park an ideal location to locate their business.
Ohio ranks in the top 4 states in the country for logistics. This premier aviation business park is ideally situated in the heart of an excellent infrastructure network. In addition, Ohio has the 7th largest road system in the U.S. Ohio is within 600 miles of 61% of all U.S. and Canadian manufacturing locations and is home to a diverse transportation system linking all North American and global markets.
A steady and skilled population, in the heart of Ohio's aerospace and logistics region, provides an ample workforce with a strong work ethic and a bias to logistics and transportation, warehouse and distribution, and aerospace skill sets. An abundance of universities, college and trade schools support skilled training and can offer tailored programs for employee training.
New Maintenance Repair
& Overhaul Hangar
Sign Up
To receive information and updates on Wilmington Air Park Click Here

<![endif]-->